Last week, the Jets played what was by far their best game of the season. By pulling out a win against the Chargers, the Jets left themselves in decent position heading in to the bye week, and they might have begun to answer many of the questions that pundits were posing about the team. The Jets won with a combination of resiliency, good luck, and good execution. Now that I've had time to break down the game film and take some notes on playing time, let's take a look at some trends that might have gone unnoticed until now.
Jets truly commit to running the ball:
It's easy for Rex Ryan, Brian Schottenheimer, and anyone else connected with the Jets to talk about their desire to run the football. What coach wouldn't want to run the football? When teams can run the ball effectively, they can control the clock, exhaust the opposing defense, and dominate the flow of the game. Of course, running the ball is
hard
.
Teams know how important it is to run the ball successfully, and teams also realize that the NFL has become a passing league. Earlier in this season, the Jets were well on their way to becoming a passing team as well; their most common formation involved three wide receivers, Dustin Keller, and a running back. That formation was ideal when the Jets attempted to pass, but it left the Jets without much of a presence at the line of scrimmage. It's easy to understand why the Jets would want to get three wide receivers on the field.
By any objective standard, Derrick Mason and Jeremy Kerley are better football players than Matthew Mulligan or John Conner; they can hurt a defense in more ways and they can be assets in the passing game. In a strange way, though, I think that having too many options hurt Sanchez earlier in the season. While elite quarterbacks can dominate opposing defenses when they spread the field with multiple receivers, Sanchez is not at that level, and we need to accept that. I think that having so many receiving options actually made Sanchez uncomfortable and led to bad decisions and rushed reads.
Last week, the Jets decided to go in a different direction. Instead of spreading the field, they only used a third wide receiver on 25 plays. By contrast, Matthew Mulligan played 42 snaps. Don't get me wrong: I don't think Matthew Mulligan is particularly good, but I think that he's a better run blocker than Jeremy Kerley. I think that earlier in the season, Schottenheimer was primarily concerned with theoretical matchups and how to exploit them; Kerley or Mason could pose matchup problems that Mulligan simply could not. On the field, however, Mulligan is actually an asset because he is so bad at catching the ball. Because Sanchez can automatically eliminate Mulligan as a potential target on most passing plays, Sanchez can streamline his reads and do a better job of protecting the football. By making the commitment to put Mulligan in at the expense of more explosive targets, I think that the Jets might have inadvertently helped their passing game, but the biggest benefit came in the running game. Simply having an extra body along the line of scrimmage did wonders for the Jets running game, and I expect that to continue in the future.
On the topic of committing to run the football, there is someone else who needs to be mentioned. Every Jets fan has taken shots at Vladimir Ducasse, and he has absolutely deserved all of them. For most of his career, Vlad has been nothing short of terrible; he seemed to have no idea what he was doing on the field ,and no ability to move his feet, which is a pretty terrible combination for a lineman. Heading into this weekend, there was no reason to expect that to change. As part of their commitment to running the football this weekend, however, the Jets decided to get Vlad on the field. In the same way that the Jets used to use Wayne Hunter as a tight end on running plays, the Jets got Vlad on the field for seven snaps. Although I barely noticed him when I first watched the game, Vlad actually deserves a lot of praise for his performance. First, look at this nice hole that was opened up by two of the most maligned players on the Jets; Vlad and Wayne Hunter. If the Jets can successfully run to the right going forward, that will do wonders for the offense.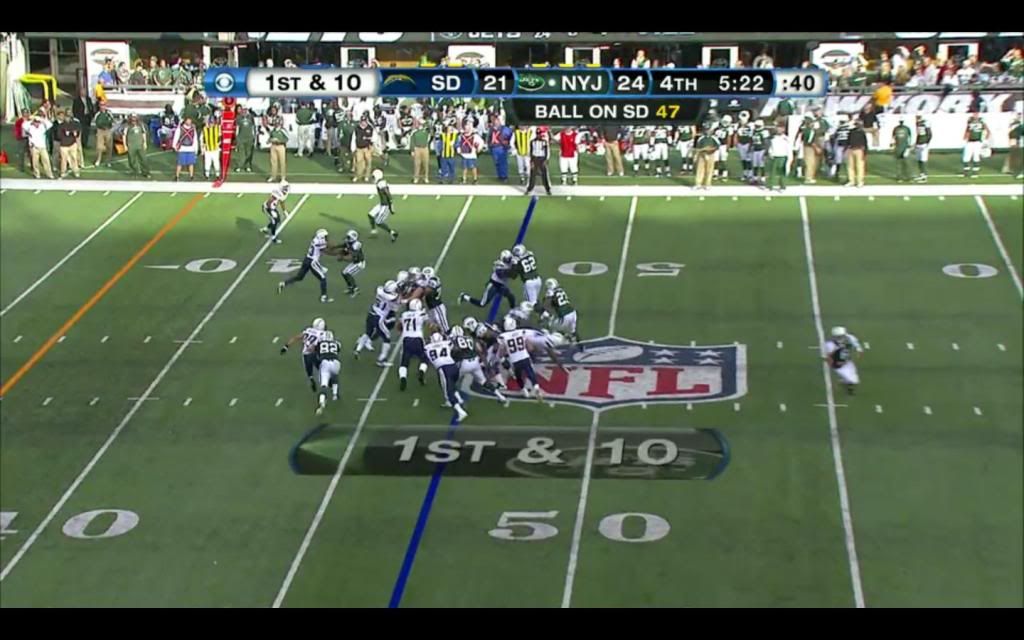 The play that most impressed me, however, came from the San Diego ten yard line.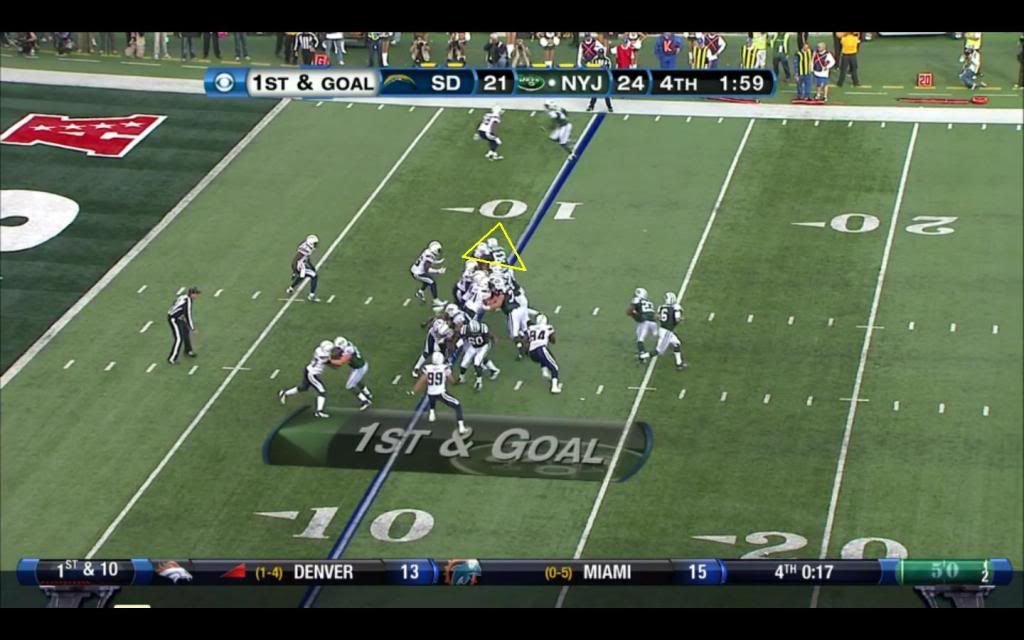 Look at where Vlad locked on to Eric Weddle, (who recently signed the 2nd biggest contract of all time for a safety) and look how far Vlad drove him backwards. I know that Vlad is bigger than Weddle, but those kind of blocks never happen in the NFL.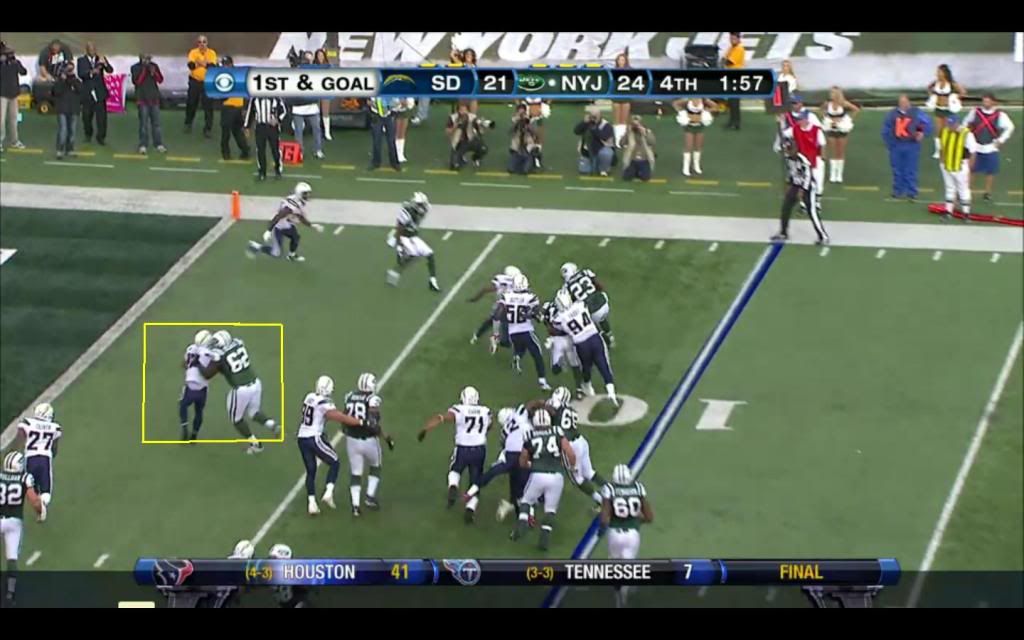 I'm not saying that Vlad has turned a corner, but I will say that he showed more flashes in this limited appearance than he ever has in the past.
On the other side of the ball, there were several things that popped out to me when I re-watched the game.
The first one was a sense of pity for Philip Rivers, and any other QB who has to face Rex Ryan's defense. I know that the Jets defense isn't perfect, and it can be maddening at times, but take a look at this play and tell me you don't come away impressed.
On a 3rd down play, the Jets come to the line of scrimmage with Bart Scott and David Harris standing over the line of scrimmage. I assume that the Chargers have a sight adjustment for this type of play, which would generally be a quick slant because the pressure up the middle would leave a vacated area in the middle of the field.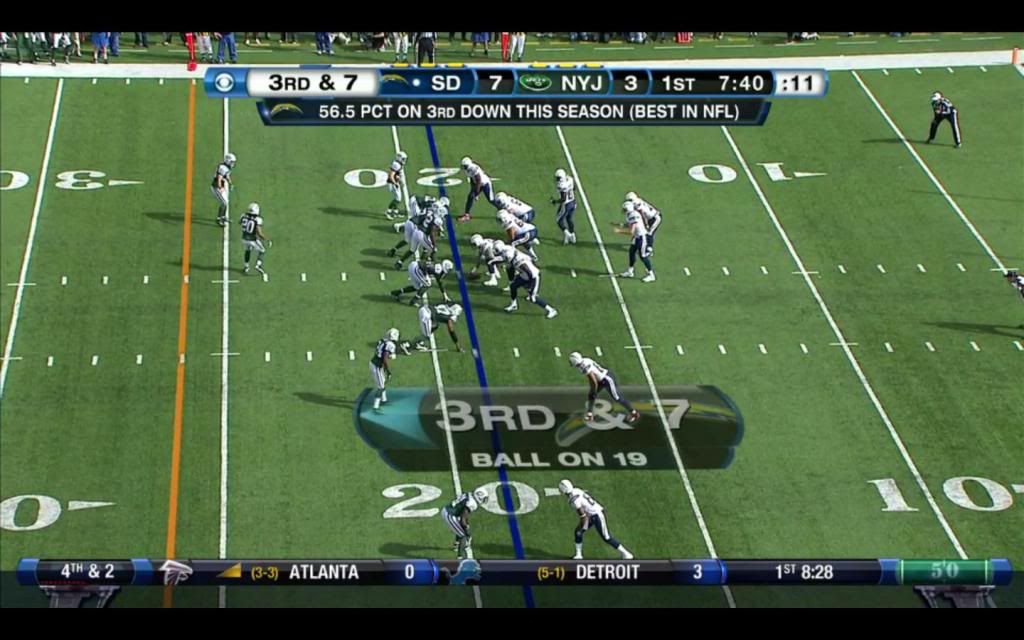 Right as the ball is snapped, Harris (in red) begins to drop back from the line of scrimmage, so it looks like a standard four man rush, as Dixon (in blue) begins to rush. By itself, this would be very confusing for a quarterback, because of the sudden change and the fact that an A-gap blitz is clearly not coming now, but a good quarterback can make that adjustment and find the open receiver. In essence, this would be a standard zone blitz.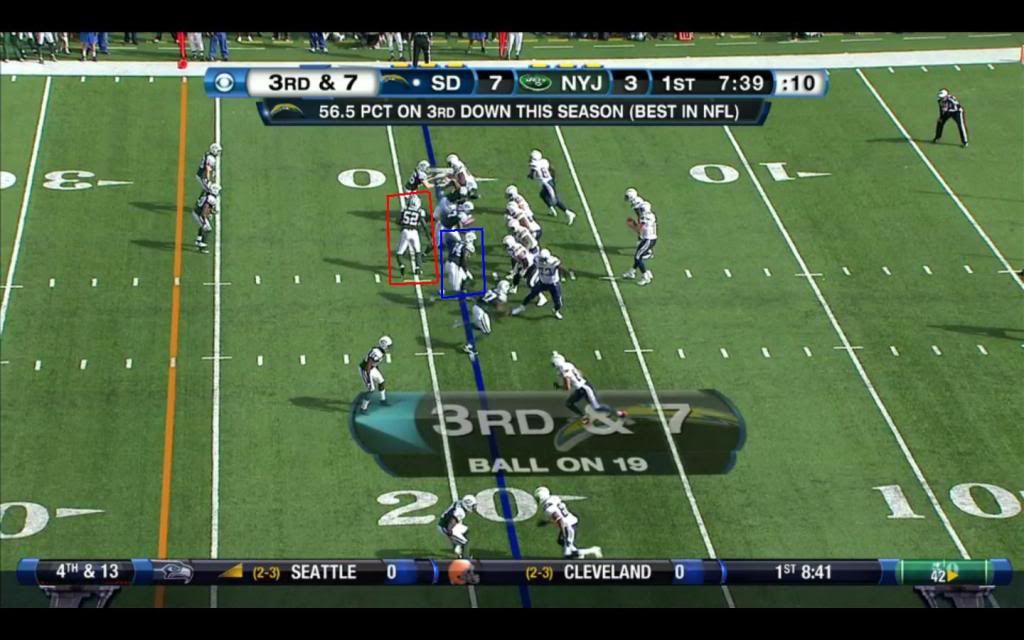 Then, the mad genius of Rex comes in. Right as he is adjusting to the initial deception, Rivers sees (or doesn't see) that Harris took two steps backwards before rushing in, and Dixon actually took a step forwards before dropping back in coverage, right in the area where a quick slant would be thrown.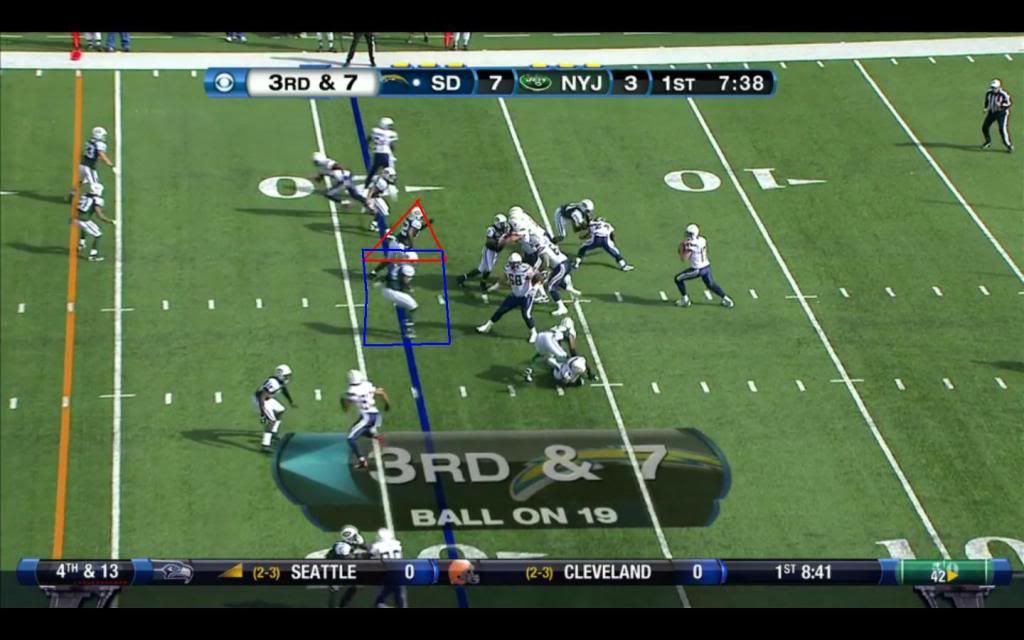 Rivers' confusion here is understandable, and the end result was Rivers holding the ball until Maybin sacked him. Keep in mind, Maybin was blocked initially, but Rivers was so confused that it was only a matter of time before someone got to him. I honestly have no idea how any quarterback could be expected to digest all of the changes the Jets make to their defensive alignment in a matter of seconds, and then complete passes against a good group of defensive backs.
Another example of this defensive confusion that the Jets cause can be seen on Kyle Wilson's first career interception. As you can see from the first picture, Philip Rivers would read the field and assume that he was facing man coverage, because all three of his receivers over the middle were being covered by one person. It's unlikely that he sees Antonio Cromartie lingering by himself by the sideline, which would be the first indication that everything isn't exactly as it appears.
By the time Rivers decides to get rid of the ball, he has decided that he is facing normal man coverage, and so he throws the ball in what should be the perfect spot: out in front of Vincent Jackson.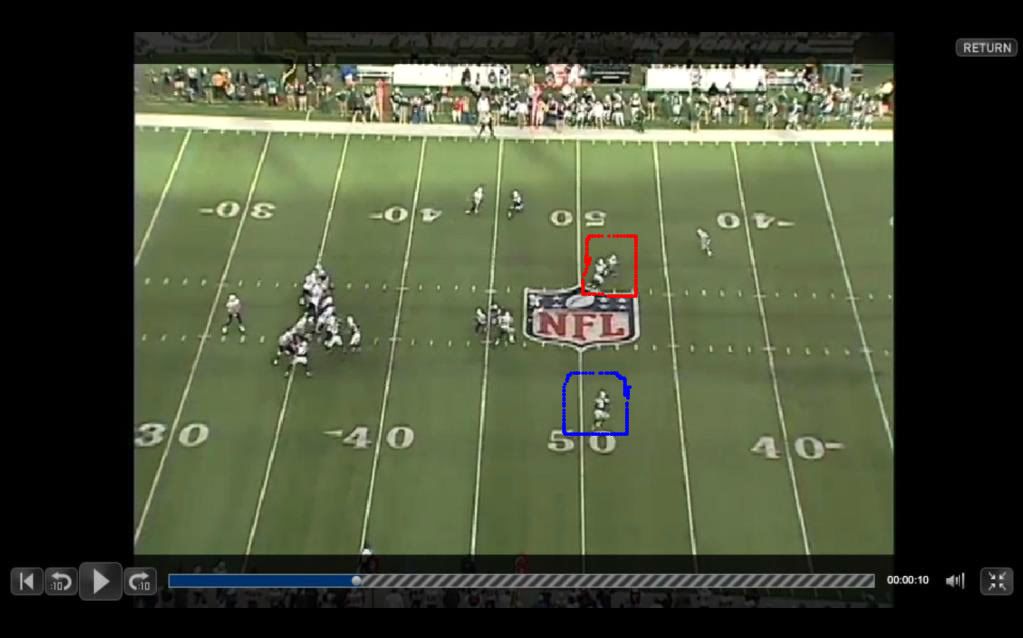 From Rivers' vantage point, there is no way for Wilson to break up the pass, unless he sprints to exactly the right spot before the ball is thrown, which he won't do, because that would violate the basic principles of man-to-man coverage.
Unfortunately for Rivers, Wilson isn't playing man-to-man coverage. He is playing a hybrid of man and zone coverage, and because of the lack of players on the other side of the field, he is able to rely on Antonio Cromartie providing deep support along the sidelines, and he is free to undercut Vincent Jackson's route. As an added bonus, the ball is waiting for him as he comes out of his cut.
This is just a small sample of the intricacies of Rex's defense, but I think it provides a good illustration of just how much sophistication there really is. Thanks for reading, and I 'll have a breakdown of Aaron Maybin's play tomorrow!
And of course, here are the snap counts for this week
Greene-42
Tomlinson-21
McKnight-4
Conner-14
Keller-59
Mulligan-42
Ducasse-7
Baker-1
Holmes-63
Burress-56
Kerley-21
Turner-4
DEFENSE
Pouha-39
Wilkerson-36
Tevaseu-23
Dixon-34
Pitoitua-16
Maybin-7
Ellis-2