My teenage years as a Jet fan were spent hating the Raiders with a fiery passion. I didn't understand how two wide receivers who looked old enough to be my father could so consistently get open and torment the Jets secondary. I didn't understand how a quarterback who looked even older than his wide receivers could be so consistently accurate, and I didn't understand why the Jets had so much difficulty beating the Raiders. Even when the Jets did well against the Raiders, heartache followed. One of my favorite Jets memories is John Hall kicking a 53 yard goal in a 2001 week 17 game against the Raiders to send the Jets to the playoffs.
Of course, the Jets lost to the Raiders the next week in the opening round of the playoffs when Charlie Garner ran for an 80 yard touchdown on 3rd and 11. The next year, I was sure that the Jets were going to the Super Bowl behind Chad Pennington, and there was a 41-0 victory over the Colts to prove it. Of course, the Raiders ended that dream as well. Those Raiders teams were really, really good. My, how things have changed. Over the past ten years, the Raiders have been one of the laughingstocks of the NFL with a litany of awful draft picks and on-field incompetence.
Last year, it appeared that the Raiders finally turned the corner. They were the only team to go undefeated in their division, and they finished with an 8-8 record. Not great, but certainly a huge improvement. Heading into this year, many Raiders fans had high hopes that the team, despite the loss of star cornerback Nnamdi Asomugha, would be able to compete for the playoffs. So far this year, the Raiders are 1-1, winning a close game in Denver and losing a last-second heartbreaker to the Bills. From these games, what do we know about the Raiders? As George Seinfeld would say….NOTHING!
That's a slight exaggeration, but we don't know much about this team. We have no idea how good the Bills are, and it's safe to say that the Broncos will probably struggle. As a result, it's hard to get any kind of read on how good the Raiders are, but this game should tell us a lot. With that in mind, let's look at some key matchups that will play a large role in deciding the game.
Raiders Defensive Line vs. Jets Offensive Line:
Although you might not believe this after watching Fred Jackson run through their defense with the ease of Kramer doing karate against little kids, the Raiders actually have an excellent defensive line.
Their primary players along the defensive line are Matt Shaughnessy, Lamarr Houston, Tommy Kelly, and Richard Seymour.
Shaughnessy is a very underrated defensive lineman who finished with seven sacks last year, and already added a sack in the Raiders' first game against Oakland.
Houston is a 305 pound defensive end who can, on occasion, move inside if the situation calls for it. He had five sacks as a rookie and was widely praised as a steal of a 2nd round draft pick.
Tommy Kelly is a very interesting player. Three years ago, he signed a massive contract extension and was held up as a perfect example of another stupid decision by Al Davis. Since the addition of Richard Seymour, however, he has completely turned his career around, and he finished with seven sacks last season as a defensive tackle.
Jets fans need no introduction to Richard Seymour, because we've witnessed how good he is up close during his time with New England. He can play either end or tackle, and he can play both positions very well; he is getting older, but he is still one of the top defensive linemen in the game.
For depth, the Raiders have John Henderson. Although Henderson is nowhere near as dominant as he once was in Jacksonville, he's still really, really big and he can be an asset against the run. Although he's not technically a defensive lineman, Kamerion Wimbley is the Raiders' top pass rusher. Last year, he finished with 9.5 sacks and was rewarded with a huge contract. Although he doesn't have a sack yet this season, he must be salivating at the thought of rushing against Wayne Hunter.
All of the talk about how good the Raiders' D-line is brings me to a related, sadder topic: how poor the Jets' O-line has been this season. Last season, no defensive line worried me, because I trusted that the Jets would be able to deal with any set of d-linemen. This year, I'm not so sure. With rookie Colin Baxter starting at center, the interior of the Jets defensive line looks far weaker than it has at any point since 2006. Expect Seymour to shift inside frequently and attempt to simply man-handle Baxter; you can also expect him to have some success doing this.
Similarly, you can expect Shaughnessy and Wimbley to alternate pass rushing against Wayne Hunter. If Hunter plays as poorly as he has the first two weeks, then the Jets offense will be in for a long day. Expect to see a lot of Matthew Mulligan functioning as a 6th offensive lineman and staying in to block on pass plays to give Hunter some added support. Of course, if Hunter is able to improve this week and give Sanchez time to throw, Sanchez should have a field day, which leads me to my next matchup.
Raiders Secondary vs. Jets Wide Receivers:
The Raiders are known for their fondness of playing aggressive, man-to-man coverage, much like the Jets. Once Al Davis realizes that Nnamdi Asomugha is no longer on his team, however, the Raiders might have to change that plan. The reason for this is simple: playing man-to-man coverage requires very talented defensive backs.
Chris Johnson
and
Stanford Routt
were fine compliments to an elite player like Nnamdi, but they have no place being the top cornerback on a team. One of the downsides to the type of coverage that the Raiders play is that it can lead to miscommunications and blown coverages far more often than zones. As we saw on the final touchdown in last week's Raiders-Bills game, teams can run "rub" patterns which are designed to cause defenders to run into each other and leave a receiver wide open.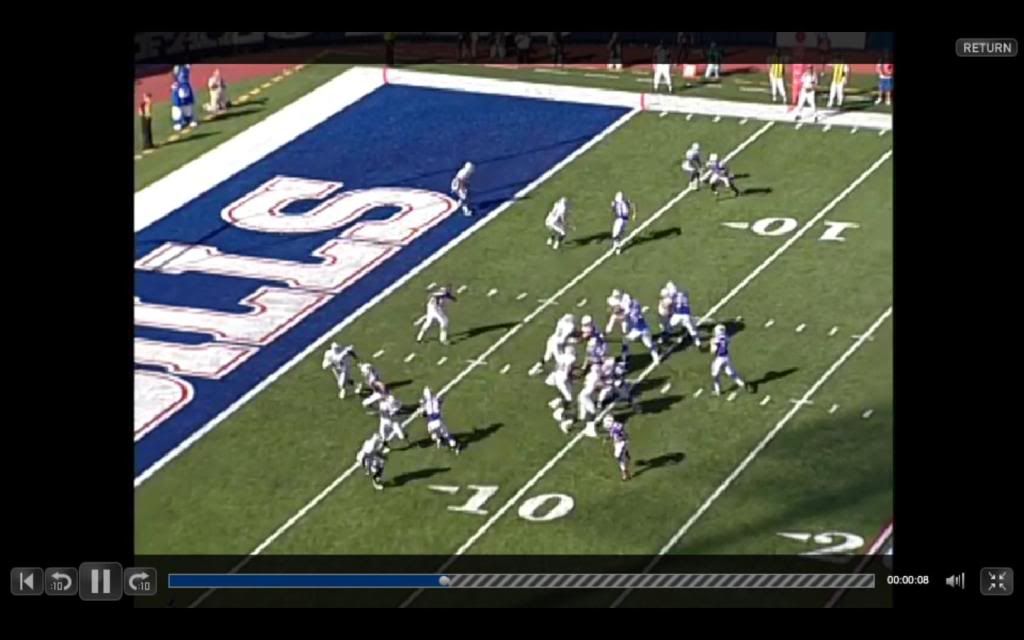 A similar example, and a play that might help the Jets, can be seen on Stevie Johnson's 7 yard touchdown catch. As I
discussed two weeksago
, the Jets have been using
Santonio Holmes
in the slot far more than they have in years past. Expect that trend to continue this week. If the Jets put Santonio Holmes in the slot and the Raiders decide to use a linebacker or safety to cover him, Santonio will be able to do literally whatever he wants, and those plays usually develop quickly, which should help alleviate the Raiders' pass rush.
If the Raiders insist on keeping their cornerbacks on the outside of the field, expect to see Jeff Cumberland and Matthew Mulligan line up at wide receiver quite a bit and simply draw those defenders away, and allow the Jets' primary receivers to win one-on-one matchups in the middle of the field.
Another way the Raiders D can be exploited is through screen passes. By playing man-to-man coverage, the Raiders generally leave only one defender to guard the back who is going to be catching the screen pass, and he must attempt to fight through two or three blockers. In addition, the other defenders generally have their backs turned because they are forced to turn and run with other receivers. Jets fans are all too familiar with this vulnerability to screen passes, as we have seen our team victimized by these plays far too often.
One final note about the Raiders defense: because the Raiders play almost exclusively man-to-man defense, they are usually vulnerable to a quarterback scrambling. With the defenders' backs turned, quarterbacks will usually have ample room to run if the receivers have run the defenders far enough off of the line of scrimmage. Last week Mark Sanchez scrambled more than we have ever seen him scramble in the past (sometimes out of necessity) and it's likely that he will do more of the same this week. Of course, he will need to be careful and not take unnecessary hits, but I would be surprised if he doesn't get at least thirty rushing yards.
Darren McFadden vs. Jets linebackers: The Oakland Raiders are a very good running team, and they have two running backs who complement each other very well: Darren McFadden and Michael Bush. The Raiders primary offensive goal is to establish the run and attempt to utilize play-action afterwards. The Jets excel at stopping the run, so this matchup should be a fun one to watch.
Another area where McFadden excels, however, is in the passing game. The Raiders passing game isn't particularly good. Although Denarius Moore gave Raider fans a reason to be excited about a big, physical receiver for the first time in quite a while, he was playing against Leodis McKelvin and not Darrelle Revis. I saw a lot of talent from Moore that I think will lead to him being a very good player, but his road to stardom will take a forced detour this weekend. With Jacoby Ford looking unlikely to play, there is no other Raider receiver who should scare Jet defenders.
The Raider who should scare the Jets, however, is Darren McFadden. He had 7 catches for 71 yards last week, and he is going to be Jason Campbell's primary outlet this weekend as well. Many of the problems that I mentioned with the Raiders playing so much man-to-man defense can apply to the Jets as well. As I wrote about
last week
, the Jets have struggled against bootlegs in the past, and I expect the Raiders to run bootlegs as often as possible.
In addition, the Raiders will likely attempt to neutralize the Jets' pass rush by running screens to McFadden (and possibly Taiwan Jones) frequently. The Jets defense will need to stay disciplined to stop these plays from being successful. The Jets also can't allow McFadden to get isolated against any of their linebackers. Bart Scott and David Harris are both wonderful players, but neither of them have a prayer at stopping McFadden in pass coverage. He will need to be bumped at the line of scrimmage and quite possibly double-covered much of the time. If the Jets can limit his success in the passing game, they should have a good chance of shutting down the Raiders' offense. One final matchup worth mentioning is…
Sebastian Janikowski vs. Antonio Cromartie: No one was happier about the new kickoff rules than Janikowski. He has always had a powerful leg, but these new rules almost guarantee him a touchback every time he kicks off the ball. So far this season, Janikowski has eleven kickoffs and eleven touchbacks. Most of these kickoffs go out of the back of the end zone, but if he happens to mis-hit a kickoff and only send it eight yards deep into the end zone, does Antonio Cromartie try to return it? So far this season Cromartie has been a definite asset on kick returns, and Janikowski seems likely to neutralize that edge.
Prediction:
This is a tough game to call. It's generally tough for teams to travel to the other side of the country and win, and it could be argued that the Raiders are poised to bounce back from their brutal loss last week. In my opinion, this game will come down to
Wayne Hunter
. If Hunter can improve to play at an even mediocre level, then Sanchez should have time to shred the Raiders' secondary, and I'm going to predict that's what will happen. With an improved Hunter, I think the Jets offense scores at least 24 points. I think the Jets have at least one breakdown that leads to a big play for DMC, but for the most part, they are able to put the clamps on the Raiders offense.
Final Score:

Jets 24

Raiders 20