Like most Jets fans, I went into yesterday's game hoping that Gang Green would be able to take care of business against an inferior team and have the game in hand by the end of the third quarter. The last thing I wanted was another nail-biter. I figured that a blowout win was the least the Jets could do for me if they were going to force me to look at their hideous uniforms for three-plus hours. By the time the game's first quarter was over, several things were obvious: Luke McCown is not an NFL quarterback, and Mark Sanchez's performance was going to engender some post-game controversy. With that in mind, I'm going to begin my postgame analysis by taking a look at Sanchez's performance.
For the first time that I can remember in Rex's tenure, the Jets decided to receive the opening kickoff. Maybe they wanted to get more first-quarter possessions in order to end their streak of not scoring touchdowns in the first quarter, or maybe they just wanted to get some good offensive reps before the game devolved into a blowout. Either way, it was a decision that caught me completely by surprise.
From the game's first play, it seemed clear that the Jets were going to attack the Jaguars through the air, and it also seemed as if Sanchez was up to the task. His initial passes looked great; Sanchez looked decisive as he made quick reads and put the ball exactly where it needed to be. He made a third down throw to LT right on the sidelines, and then it was awesome to see Sanchez taking a downfield shot to Keller, and Keller simply looked too fast and powerful for anyone on the Jaguars to keep up with. On the game's first touchdown, Santonio Holmes executed a beautiful double move, and Sanchez put the ball in the only spot it could have gone, and Holmes made a great catch. Really, it was a thing of beauty.
On the Jets next offensive possession, however, Sanchez made the kind of rookie mistake that he is trying to put behind him. He was so locked in on Derrick Mason that he failed to notice that Mason was facing bracket coverage and there was no window to throw the ball. That was interception number one. As frustrating as that throw was, it looked like Sanchez had bounced back from it over the next few possessions, as he did an excellent job with his reads and was checking the ball down when no one was open downfield. He even got John Conner involved in the passing game, which was nice to see. Then, just as suddenly, "Bad Mark" made an appearance when he threw an interception to Rashean Mathis on 3
rd
and 15. As soon as the ball was snapped, there was no doubt that Sanchez was only looking at Santonio Holmes. Unfortunately, if there was no doubt for the viewer at home, there was no doubt for Jaguars defensive backs either. Locking in on his receiver is a problem that Sanchez has had, and it's a problem that reared its head last week as well. Hopefully, Sanchez can learn from this and stop doing it. To me, it seems as if Sanchez's natural tendency is to lock in on one receiver, and he needs to remind himself not to do that. When he forgets to do that, bad things happen, but I also think that he's doing it less this year than in the past.
For the rest of the first half, Sanchez played pretty well. LT had a key third down drop with under a minute left that might have led to a first down, but it's hard to say for sure. I thought that Sanchez didn't make a great pass, and he should have led LT more, but it's a catch LT normally makes in his sleep.
When the second half started, the Jets offense looked entirely out of sync, as they couldn't even seem to remember the snap count in unison. Then, of course, as everyone was complaining about Sanchez's sub-par first half, he made one of the best throws you will see any quarterback make this season.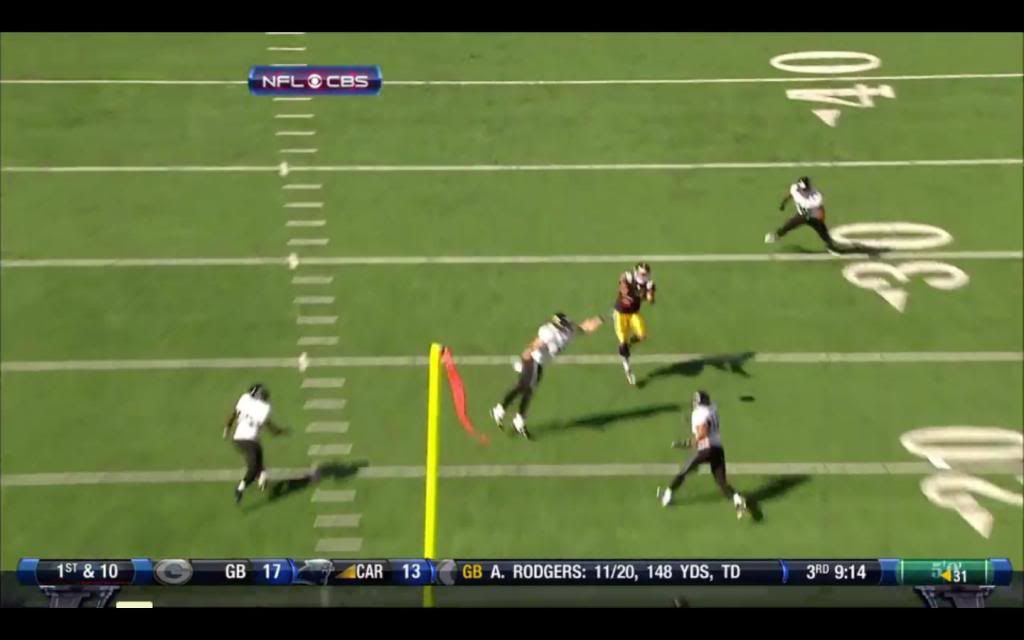 I wasn't kidding. It's Tiny!!
Seriously, look at how tiny that window is. Sometimes all you can do is shake your head at Sanchez. It's so obvious that he has all of the physical tools that are necessary to succeed, and he'll make throws like this that make your jaw drop, and then he'll have terrible stretches where it looks like he's one of the worst QBs in the league. I don't know if he will ever become predictable. Sanchez then made another great throw to Holmes with around five minutes left in the third, when a slightly softer throw would likely have been picked off. Instead, Sanchez threw an absolute dart that Holmes caught for a first down.
Then as if to remind us just how talented he is, Sanchez made another perfect throw to Keller, this time for a touchdown. Keller was guarded by Paul Posluszny, one of the better coverage linebackers in the NFL, and Sanchez fit the throw into a tiny window.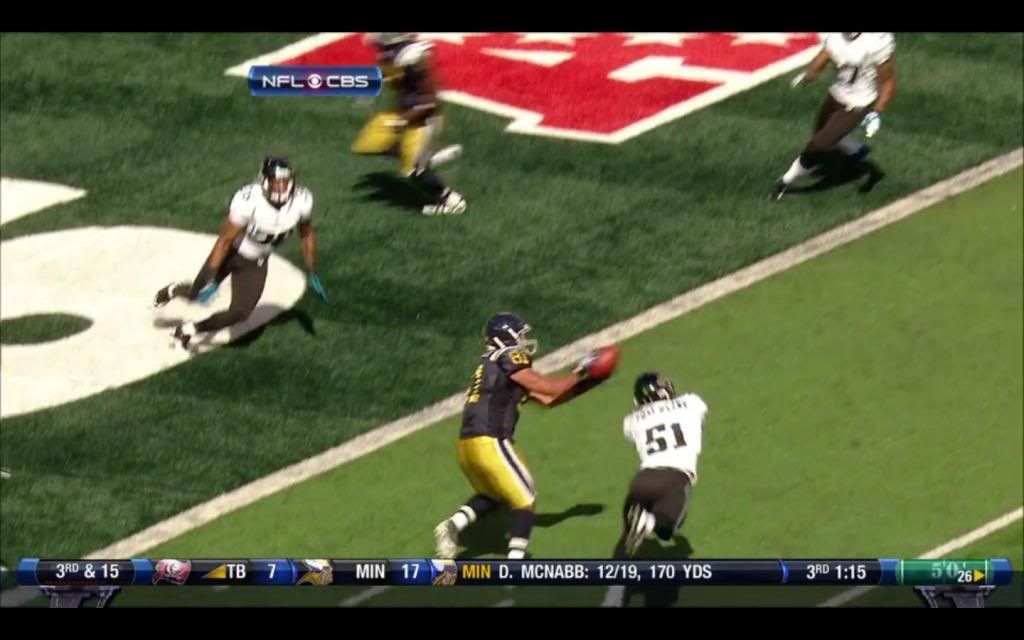 How many QBs make that throw? It's a small number
Of course, Sanchez needed to show us that the Mr. Hyde to his Dr. Jekyll still existed, Sanchez missed a wide open Burress in the end zone to start the fourth quarter.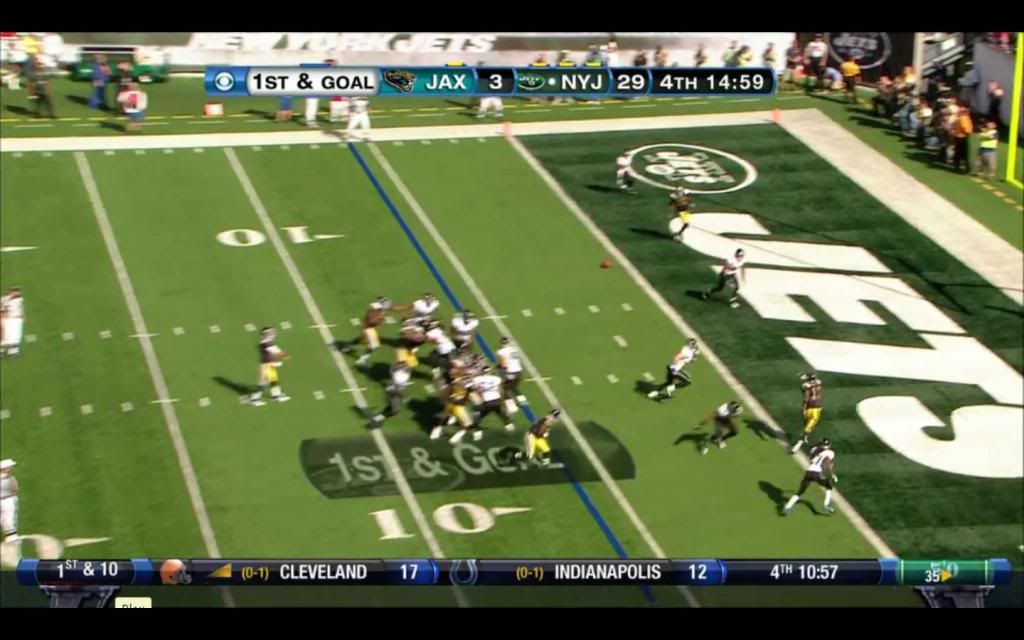 This was probably his easiest throw of the game.
In many ways, Sanchez's performance today was emblematic of the type of quarterback that he is; a supremely talented player who was certainly worthy of his high draft pick, but an enigmatic player who makes many of the same mistakes he made as a rookie. I can guarantee you that if I were to ask Sanchez if he was satisfied with how he played today, his answer would be a resounding "no." Many people will say that because the Jets won, Sanchez played well, but I don't accept that logic. The Jets so clearly out-classed the Jaguars today that Sanchez could have thrown five interceptions and the Jets could have won, and I wouldn't call that acceptable.
At the same time, I won't say that Sanchez played badly. In a lot of ways, he looks totally improved over the player that he was last year. With the exception of his missed throw to Burress, Sanchez's accuracy was phenomenal. In the past, Sanchez had an awful habit of missing his receiver son what should have been easy throws, which turned a lot of 3
rd
and shorts into 3
rd
and longs. Today, Sanchez was
much
better in that regard; he was decisive and accurate in all of his throws. Both of his interceptions came as a result of poor decision making, and not poor accuracy. I'm honestly not sure which is the lesser of the two evils, but if Sanchez can complete 70 percent of his passes, I will take my chances with his decision making, and I will confidently say that the Jets will win the vast majority of those games.
In addition, I was very happy with Sanchez's scrambling. His mobility is clearly an asset, and there's no reason that he shouldn't utilize it when the situation calls for it.
While Mark Sanchez played pretty well yesterday, the running backs showed very little. Although the offensive line generated almost no push,
Shonn Greene
did almost nothing to create yards on his own. In the past, Greene hasn't needed to create yards for himself, because he could rely on the offensive line. Clearly, that is no longer the case. In the coming weeks, we will see if Greene has the ability to generate yards even when there is no room created for him.
While the running backs showed very little to make any Jet fans happy, the receivers were a different story.
Santonio Holmes
ran an incredible route and made a great catch for the game's first score; that was the kind of play that elite wide receivers make, and it's important that he gets proper credit for playing well yesterday, because most of the accolades will likely go to
Dustin Keller
. Keller played one of his better games as a Jet yesterday. Sometimes, Jet fans can forget what a supremely talented player Keller is, but we were all reminded yesterday. Keller looked to be uncoverable, as he ran sharp, precise routes to get open and then simply out ran the linebackers who were covering him. Of course, when that didn't work, he would just show off his awesome spin move, and that worked just as well. If Sanchez continues to target Keller on a consistent basis, there's no reason that Keller can't put up an incredible statistical season.
Offensive Line:
Damien Woody, I know that there's almost no chance you will read this letter, but I'm going to proceed as if you will.
Dear Damien,

I am truly sorry for not appreciating you more when you wore the green and white. I'm not sure why, but I never considered you the elite player that you truly were. Maybe I read The Blind Side one too many times, and I was convinced that the only player on the offensive line that mattered was the left tackle. Maybe I was so impressed by Brick and Mangold that I thought whoever played right tackle was irrelevant. Either way, I was confident that Wayne Hunter could step in to your position this year and that the Jets offensive line wouldn't miss a beat. Hunter played well in the playoffs last year, he was big and athletics, and it just seemed like he was up to the task.
Boy, was I wrong. I honestly didn't realize how badly your loss would affect the entire Jets offense. I can honestly say that your loss has made the running game significantly worse, and has almost gotten Mark Sanchez killed several times.
Your replacement, Wayne Hunter, has been beyond terrible, and there doesn't appear to be much hope for immediate improvement. I haven't even begun to talk about his penalties, because that would take too long. So, Damien, if you want to come out of retirement that would be great. Or, if you want to get Wayne Hunter to play better, that would be great too. Either way, I just wanted to say I'm sorry.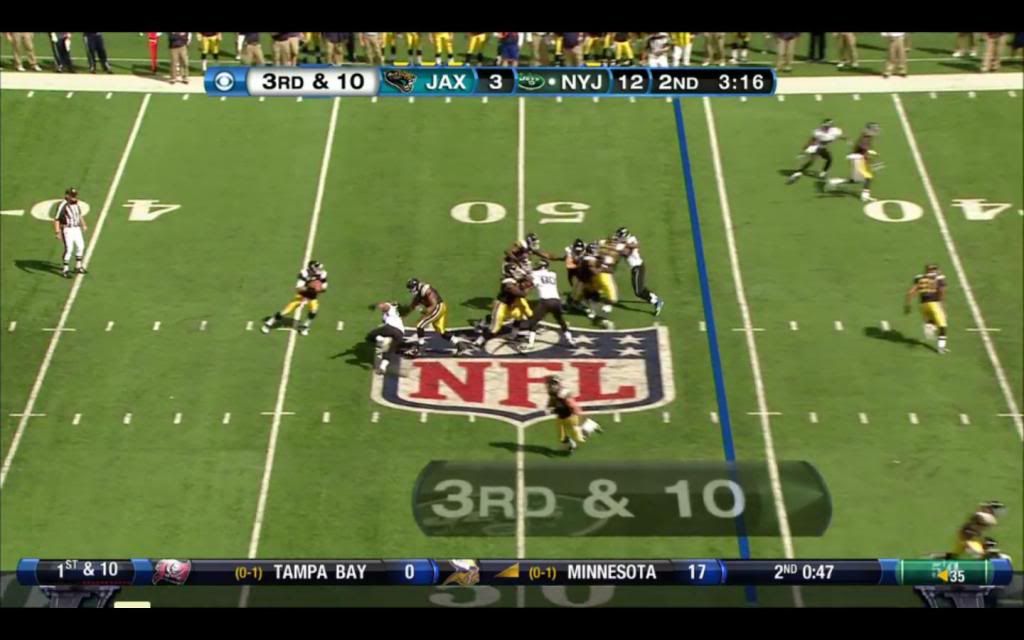 Wayne, you're doing it wrong.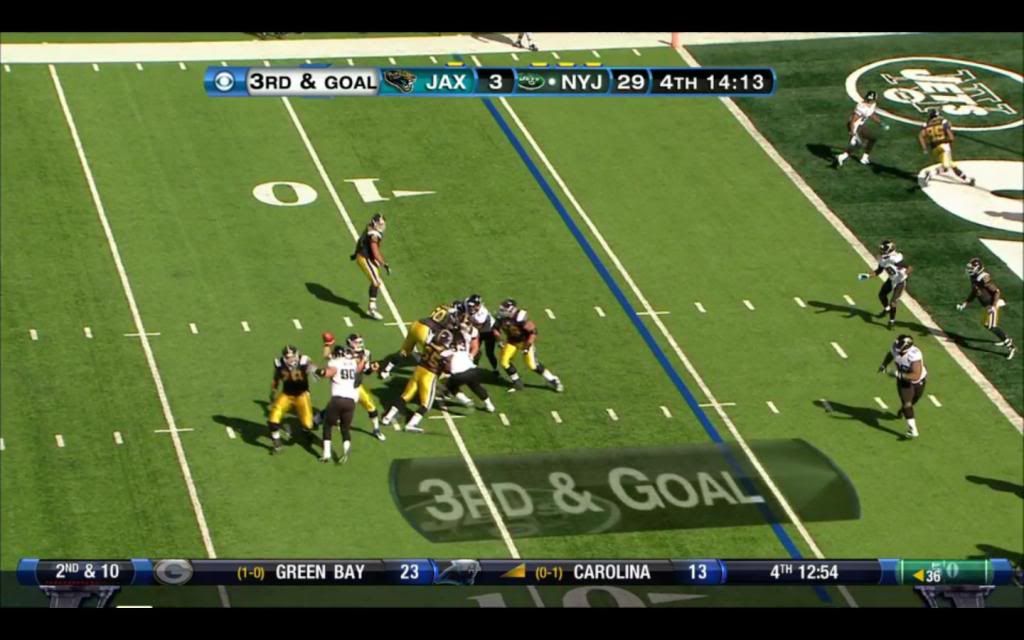 I will have more analysis later in the week, but for now just marvel at Wayne.
The defensive line came through with its usual underrated performance. Although Maurice Jones-Drew had some statistical success, he was never a serious threat to the Jets defense. Of course, part of that might have stemmed from the fact that the Jaguars struggled to complete a forward pass, but that's neither here nor there. One play that particularly stuck out to me was
Muhammad Wilkerson's
sack and safety of Luke McCown. Aside from the fact that this play already made Wilkerson a better player than Vernon Gholston, it was great to see a Jets defensive lineman generate pressure on his own without relying on a blitz to hurry the quarterback. Wilkerson also had several excellent plays against the run, and he shows off the physical tools that led to the Jets using their first round pick on him.
Ropati Pitoitua
and Mike
DeVito
were similarly effective, as they got good penetration at times and generally did their jobs.
One player that has caught my attention so far this season has been
Calvin Pace
. For the past three seasons, Jet fans have viewed Calvin Pace like the way most people view the show
House.
No one would say that Pace is a bad player, but no one would say that he's good, either. What makes Jet fans more likely to criticize Pace is the massive contract that the Jets signed him to. The Jets clearly were expecting Pace to become an elite pass-rusher, and they gave him a contract to match those expectations. Two years ago, Pace was suspended for the first four games for pulling a Shawne Merriman and using performance enhancing drugs. Last season, Pace broke his foot and missed the first four games, and was limited for much of the rest of the season. This season, it appears that the Jets finally have a healthy Pace, and the results have been good.
Pace has shown far more explosiveness than I have ever seen him display, and he is a constant presence in opposing backfields. I'm not expecting Pace to turn into Cameron Wake or DeMarcus Ware, but an eleven sack season is not out of the realm of possibility for him, and if he can just be better than he has been for the past two seasons, that will open up Rex's defensive playbook and allow for even more defensive creativity.
Not surprisingly, the secondary looked awesome against such a woeful passing offense. I almost hesitate to take anything from last night's game, but it was nice to see Cromartie get two interceptions and remind everyone of how talented he is, and Kyle Wilson made a great open-field tackle. Wilson is a much-improved player from last season, and I look forward to seeing how he responds to playing against teams who can actually move the ball through the air.
Thanks for taking the time to read this, and check back in a day or two for more analysis!