After taking a few days to review the film of this past weekend's massacre against the Jaguars, I've come to one conclusion: Luke McCown isn't very good. Just Kidding! Well, I'm serious about him being awful at football, but I did come to a few other conclusions as well. Keep reading after the jump for my analysis on Wayne Hunter, Calvin Pace, Mo Wilkerson, and several other players.
I've already talked about my semi-pathetic yearning for the desire of Damien Woody. It's not healthy and some would even call it childish. Whatever. The fact remains that Wayne Hunter has been the worst player on the offense this season by a wide margin. By performing so badly he has done an excellent job of illustrating just how important Woody was to the Jets offense.
Block him Wayne!
This week, I went back and watched some of the games that Hunter played in last season, and he was actually pretty good. I saw surprising quickness from him, along with the ability to lock on to a defender in the running game. This season, however, Hunter has been something different, and awful. He looks completely lost in both facets of his game. When pass blocking, he appears to not understand the snap count, as defensive linemen seem to get past him within a step and a half. In the run game, Hunter has been just as bad; he seems unfamiliar with the concept of zone blocking and he can often be seen standing in an area with linemen around him, but not actually blocking anyone. When he does block someone, he seems to lack the power that you would expect of someone with his size, and Hunter almost never gets to the second level when blocking. All of these factors have combined to bring the Jets' running game to an awful, screeching halt.
When Vladimir Ducasse entered the game in the fourth quarter, he didn't look any better. He seems to struggle with the concept of zone blocking, and on most of his plays, he failed to lock on to a defender and drive them backwards. For those of you who are hoping to replace Wayne Hunter with Vlad, I can tell you that I haven't seen anything from Vlad that would indicate that this move would help the team at all.
And now, on a happier note, the offensive snap counts!!
Holmes 43
Burress 35
Mason 28
Turner 11
Kerley 6
Cromartie 1
Keller 44
Cumberland 20
Mulligan 26
Greene 34
Tomlinson 17
McKnight 7
Conner 13
And for the Defensive Line!!!
Pouha 37
Devito 37
Wilkerson 18
Pitoitua 25
Dixon 19
One thing that caught my attention on the defensive side of the ball was the way that Rex deployed Marcus Dixon. At this point in the season, it's obvious that the Jets have four top defensive linemen in Pouha, Devito, Wilkerson and Pitoitua. In Sunday's game, however, Dixon got 19 snaps, which was actually one more snap than Wilkerson got. What was particularly interesting about Dixon's usage was that of his 19 snaps,
he was the only defensive lineman on the field for 6 of them. It seems as if Rex has, for whatever reason, decided that Dixon is the designated lineman on third and long when Rex loads up the field with linebackers and defensive backs. So far, Dixon hasn't done anything to really justify this role, but it certainly bears watching for the rest of the season. It seems like Wilkerson might be in line for more of these snaps, especially after his sack when he lined up at nose tackle on Sunday, but we will see what happens.
Although I mentioned it earlier, one player who consistently impressed me last week, and against the Cowboys, was Calvin Pace. He looks quicker and more agile than he has in
years past. Although I'm biting my tongue as I
say this, is it possible that a healthy Calvin Pace might actually have been worth something close to the exorbitant contract that the Jets decided to pay him? Fingers crossed! A healthy and productive Pace would free up the Jets defense in a variety of ways: it would allow for Rex to tone down the number of rushers he sends on blitzes; it would allow for the Jets to consistently double team tight ends and slot receivers, who have given the Jets trouble ever since Rex took over, and it would allow for even more exotic blitzes because defenses would have to account for Pace on every play.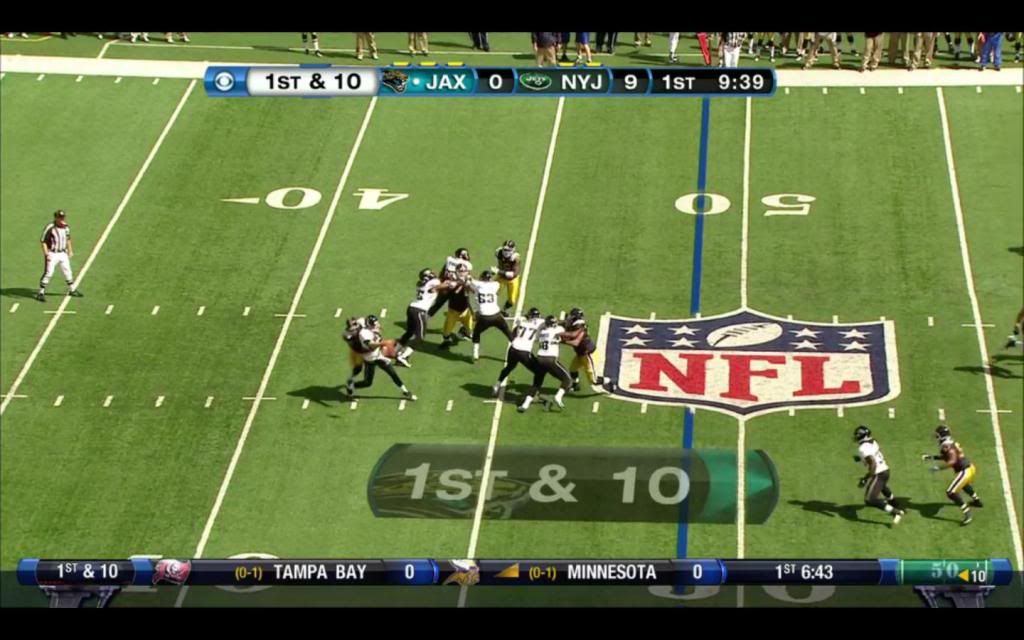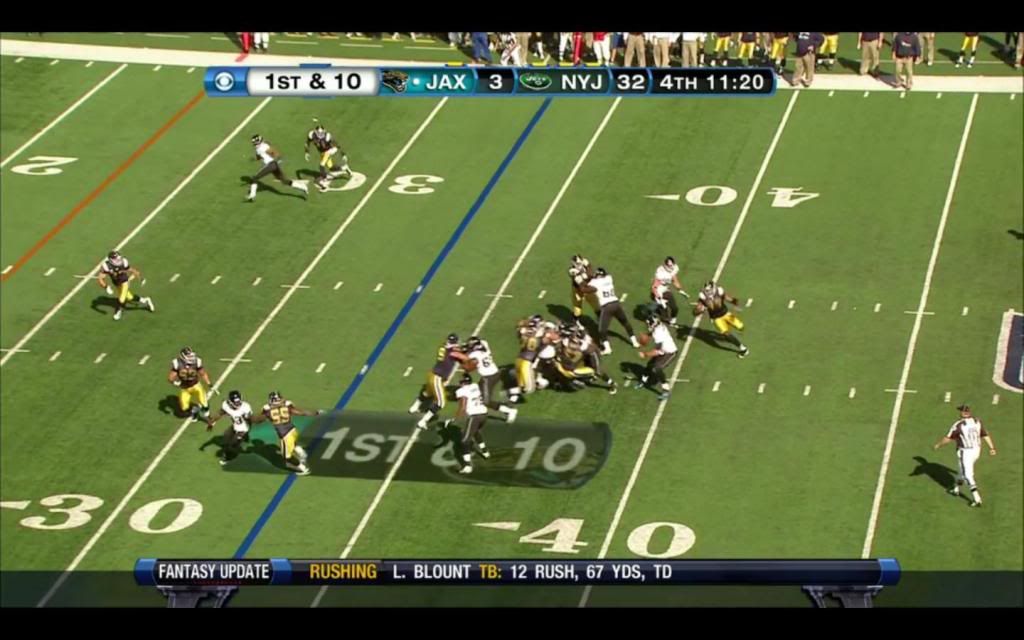 Who doesn't love a montage?
Speaking of Pace, he made another play that I wanted to spend a minute talking about. Throughout Rex's tenure, one play that the Jets have struggled to defend is the bootleg. The bootleg, as many of you are aware, is a pass play when the quarterback fakes a handoff and then rolls in the opposite direction of his offensive line.
Generally speaking, when the Jets have faced this play in the past, they have overcommitted to the direction the quarterback faked, and the linebacker responsible for containment would take off in pursuit of the quarterback, which would lead to an easy completion and first down to the running back. On this play, as you can see, Pace resists the temptation to chase after Luke McCown, and instead stays at home and eliminates Deji Karim as a receiver. Although the pass on this play was actually completed, the result is far less important than what this play indicates about the Jets defense. It would suggest a more disciplined unit in Rex's third year, and a unit less vulnerable to plays that were once guaranteed to succeed against it.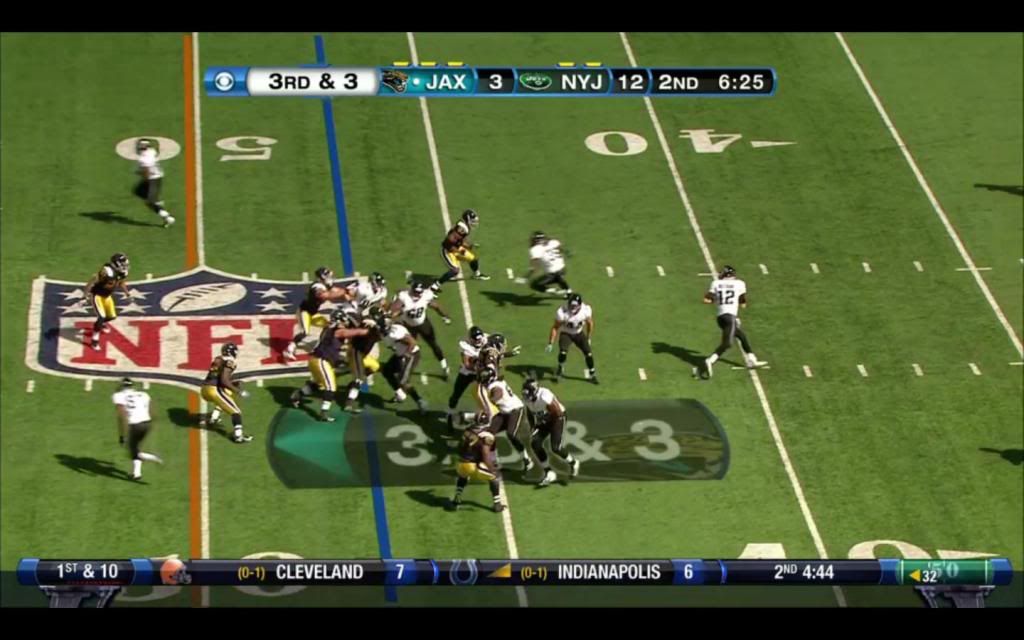 One interesting thing that I noticed that I thought warranted a mention was the presence of the most intimidating "linebacker" in the history of the NFL. I'm not sure if having Pitoitua stand up before the ball is snapped actually does anything, but it definitely makes it clear how massive he is, and that's important.
Muhammad Wilkerson also had a very solid game. In addition to his
sack, which was awesome, Wilkerson had several big stops of running plays, including one play in which he sliced through a double team, ran downhill at the running back, and stopped him behind the line
of scrimmage.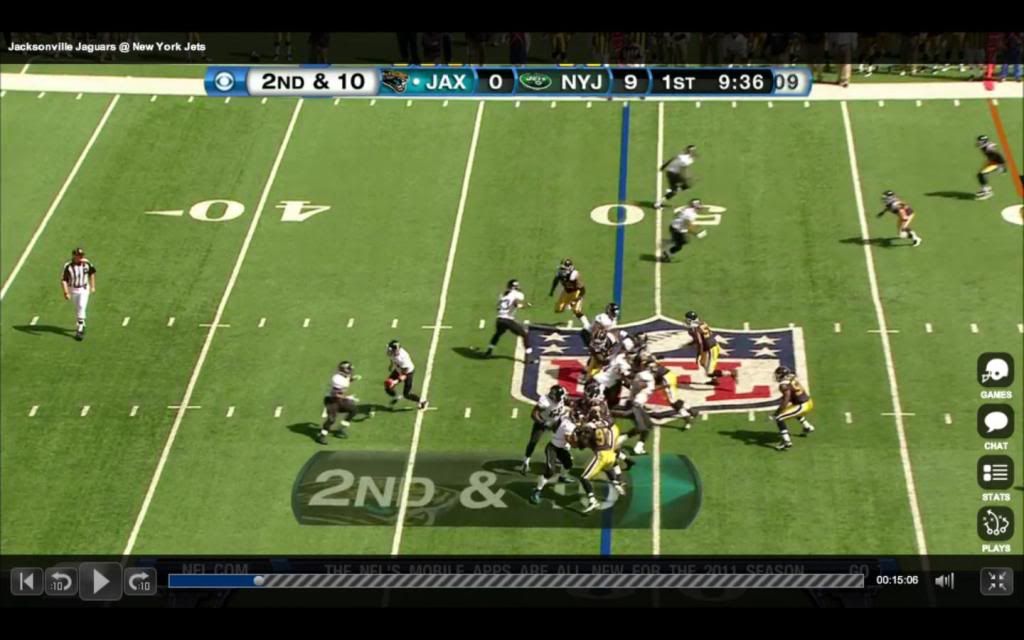 Thank you everyone for taking the time to read the blog. Although this week's entry was a bit shorter due to a lack of material to discuss in the wake of such a thorough ass-kicking, please stay tuned for a Jets-Raiders preview, and postgame analysis!